HOTEL ANIMATORS casting in DAUGAVPILS already 17 of MARCH ! ! !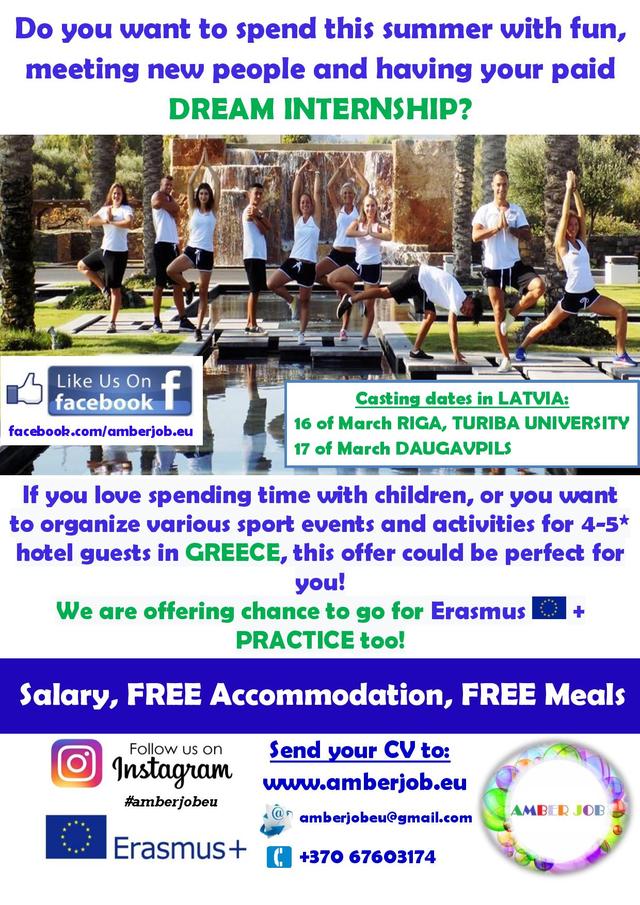 Be a member of our ENTERTAINMENT TEAMS in the most attractive 4-5* Hotels all over Greece and Cyprus already this summer!

As a member of our Entertainment - Animation Teams you will take a part in daily activities, such as pool games, beach games, Family events and others...

Available positions:
* Kids entertainer (Kids club);
* Sport/Fitness entertainer;
* Teenagers entertainer;
* Allround entertainer.
No previous experience required, we will teach you in GREECE.

Candidates must have:
- Good presence and health;
- Good communication skills;
- Team player skills;
- English language skills any other foreign language is an asset;
- EU passport or EU resident permit card (foreign students studying in Latvia are accepted too);
- to be not younger than 18 years old;
- to be available to work at least 3 months;
- smile and positive energy :)

We are offering:
- FREE accommodation
- FREE food 3 time per day
- Hotel Salary
- Holiday working environment

▼16 of March ANIMATORS casting in RIGA TURIBA UNIVERSITY
▼17 of March ANIMATORS casting in DAUGAVPILS

Do not wait till the LAST MINUTE, send your CV to amberjobeu@gmail.com for registration NOW, and have the best summer
EVER ! ! !

Share it with your friends and spend summer in Greece together!
Event link of FACEBOOK page: Animators casting RIGA and Daugavpils
Kind Regards,
Gintare Rumbinaite
Amber Job director
Official Remarc Sun Sea Fun
representative in Lithuania,
Latvia and Poland
+370 676 03174
Piesaistītie faili: